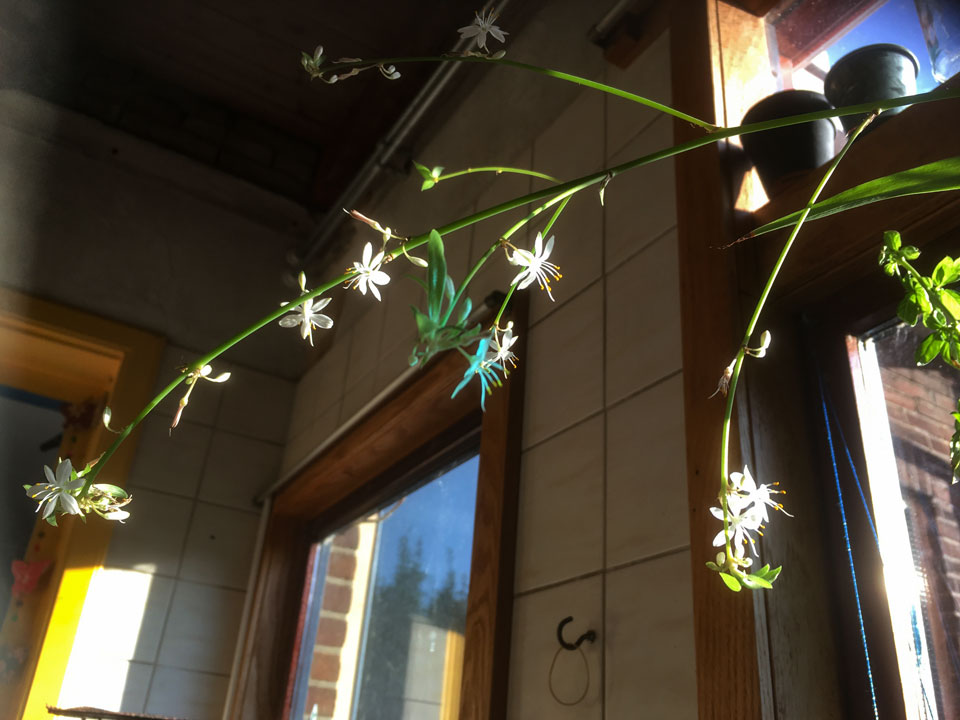 Een beetje opdringerig hingen ze ineens voor mijn ogen; het kan zijn dat ik er eerder geen oog voor had, of het haar ervoor zat. Het is de onlangs gekregen plant in de glazen pot, waarvan de naam en soort onbekend was. Determineren maar!
Sarantos en Maria hebben gebeld; of ik hun tv kon komen ophangen aan de tegenovergestelde muur in de slaapkamer, nu ze het bed tegen de andere wand hadden gezet. Fluitje van een cent en zij blij, met mij althans, want onderling vitten ze door. Zodra ze terug zijn uit Griekenland bellen ze me weer voor die loszittende kraan in de keuken.
De ketels in het grote huis zijn nu allemaal schoongemaakt en voorzien van nieuwe pakkingen. Nu in het eigen pand nog. Linda heeft eindelijk haar nieuwe telefoon in gebruik en toegang tot de nas. Een plan van aanpak voor de museumwoning wordt gemaakt; de oude plafonds en wrakke wanden te fixeren. Het wordt nog wat. Nieuwe ramen?