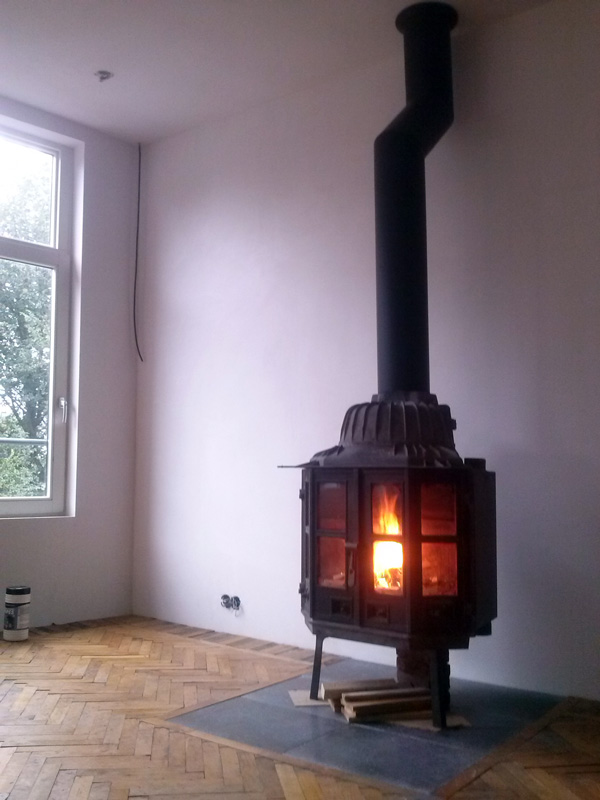 De pijp staat prachtig op de kachel, en hij trekt als een paard(?), dus zuigt ie de ruimte zo leeg. Maar die kachel is wrak, en zo is de vloer, en de traphekken, en het fornuis en het bed in het gastenverblijf, de bar beneden, en al het andere meubilair waarschijnlijk ook.
Het is leuk, ouwe spullen, als je ze voor weinig krijgt en er wat van te maken valt. Ik heb echter steeds meer het idee dat er veel tijd en geld besteed wordt aan zooi die dat niet waard is zonder dat je er nog zo'n hoeveelheid in investeert, tijd, geld, energie, of wat dan ook.
Ik heb 't al vaker gezegd, maar voel niet dat 't echt serieus genomen wordt, omdat 't uiteindelijk toch wel gefikst wordt, of niet en dat laten we het daarbij. De goede wil te slijten.
Ik ben ik er nu ook klaar mee, maak me er al lang niet meer zo druk om, voel steeds minder verantwoordelijkheid voor die dingen, kan ze te makkelijk doorschuiven.