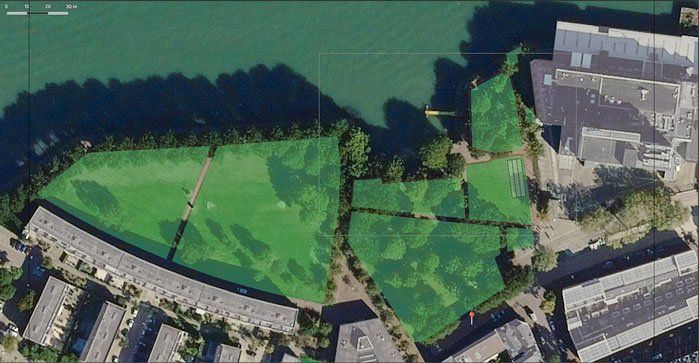 Veelal op orde: strakke lijnen, regelmaat, groen begrensd. Je mag en kan er niet alles doen of laten, we houden het net, opgeruimd en veilig. Zelfs de terrassenwoede lijkt ondanks plaatselijke en individuele onbeholpenheid aan banden gehouden.
Je kan je er laten zien en gehoord worden, of als je de macht, moed en middelen hebt er iets neerzetten dat op de een of andere manier de aandacht trekt, waar men al dan niet om heen kan of moet. Virtueel kon het altijd al.
Alles en iedereen moet in dozen, groen in perken, bomen in het gelid, auto's in vakken, water in kanalen, kinderen in het gareel, honden aan de lijn, gedrag genormaliseerd, rekeningen vereffend, leed geleden, en de pijn bestreden.