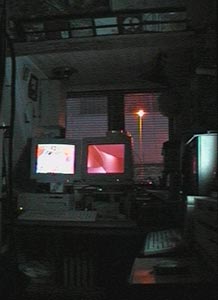 Ik zit weer dagen achtereen op mijn kantoor aan een nieuwe klus. Verhalen opdiepen uit de al dan niet rijke geschiedenis van de plaatsen Schiedam, Vlaardingen, Maassluis en Hoek van Holland, opdat die voorgelezen worden voor in de interactieve 'persicopen' langs de Nieuwe Waterweg. Met bijpassende plaatjes.
Het kantoor en lokalen van de basiseducatie heb ik al een week niet meer gezien; te beroerd om voor die club me uit te gaan sloven. Kwam dat goed uit. Voor ik goed en wel op gang was ging mijn computer vreemd doen. Van alles opnieuw geïnstalleerd dat stuk gegaan was en toen nog. Een virus bleek zich aan een tiental bestanden gehecht te hebben, mogelijk afkomstig van een spel dat ik voor de kids van een (officiële) cd-rom (voor wintelpc) had gekopieerd. Nieuw type beveiliging?
The MBDFA and B viruses infect applications as well as System files and spread rapidly. MBDF A and B cause occasional crashes, particularly if commands are selected from menus when running System 7.x or System 8.0.1.
Of ik heb het gewoon in mijn ppc zitten hoesten, want het kriebelt de laatste dagen weer behoorlijk in mijn strottehoofd.