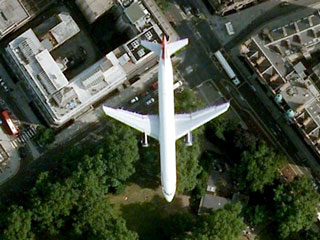 Waar komt die vandaan, net als je het stratenplan van de stad vastlegt? En waar gaat ie heen?
Even dacht ik dat het om een monument voor de luchtvaart ging, maar het ding is veel te groot in verhouding tot de gebouwen en de auto's, zeker voor een tweemotorig toestel.
Voortaan goed opletten; het zal vol zitten met dit soort grappen. Hoe is het met die gasten die live-satelietbeelden wilden gaan plaatsen op het net? Niets meer van gehoord. Bestuurbaar door de toeschouwer, zoals indertijd veel van de webcams op min of meer unieke locaties. Zat je online te ruziën over de kijkrichting met een andere bezoeker. Moet je je al bekeken voelen als je ergens buiten verblijft, of je dakraam blinderen?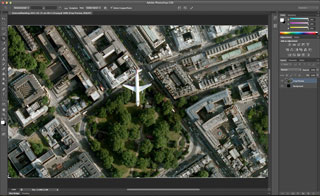 De sfeer van de nieuwe interface van Photoshop (13) is nu als die van Photoshop Elements, of Lightroom, of Aperture, of zelfs iPhoto. Je kan er eenvoudig je foto in croppenmet behulp van beproefde verhoudingen als de Fibonacci spiraal, de gulden snede, of op driehoeken of diagonalen. Bijgelovig of niet, het is een beta-versie en niet alles werkt naar behoren. Ik mis ook enkele filters.